TecnoFruit
Professional collection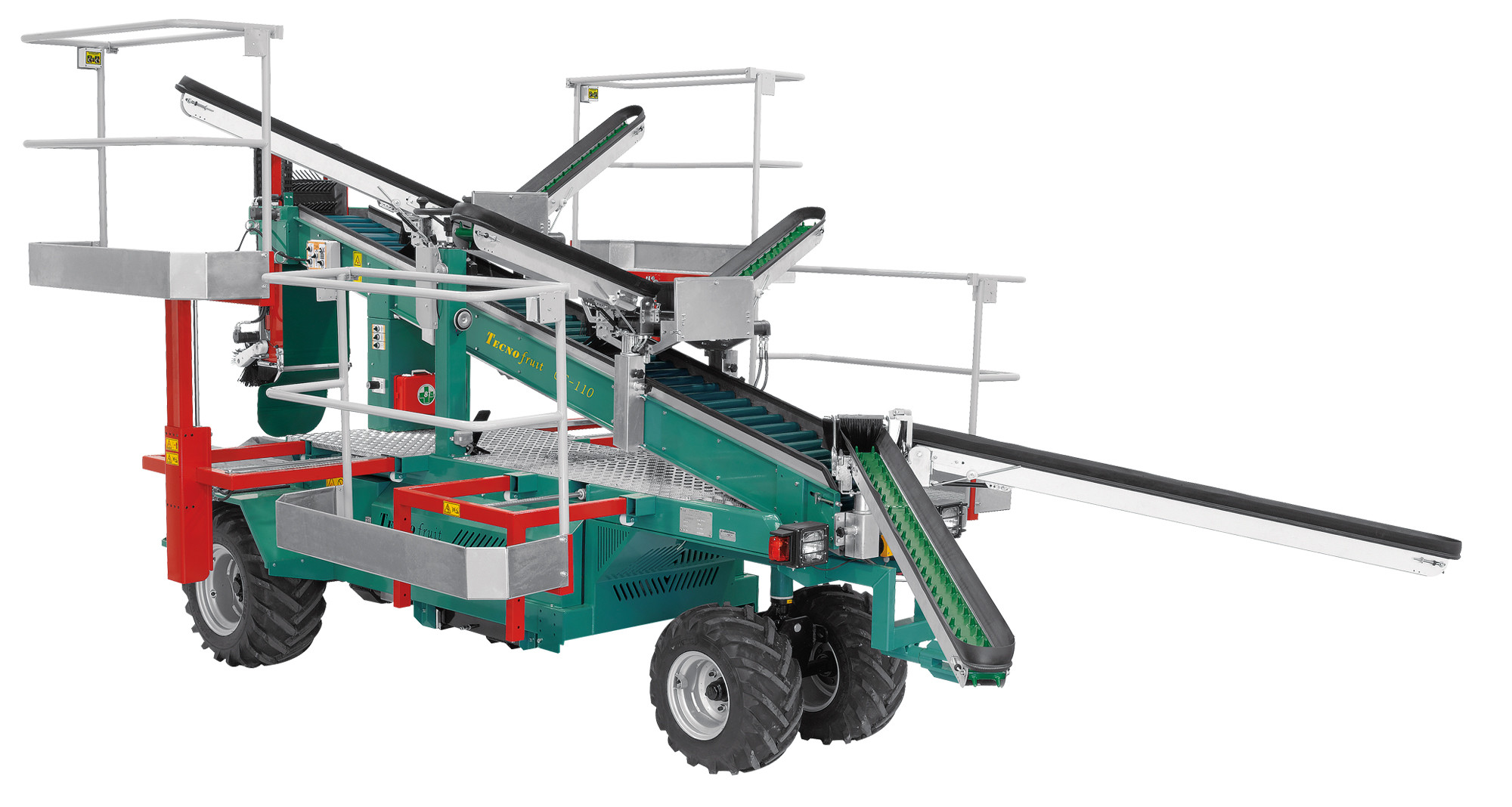 Tecnofruit CF-110
Machine suitable to manage plants with 3.60 to 4.50 m inter-row and maximum
height of 4.00 m. Designed to be multi-purpose, it has a rich standard equipment
(the automatic trailer and the air compressor for 6-8 shears are also
standard) that allows seasonal works. Equipped with a 4-cylinder diesel engine
it can reach even 10 km/h for transfers on an appropriate base.
The 4 generously sized side platform (measuring 1.38 x 0.40 m) make harvesting as easy as
possible. The main quality that distinguishes all
TECNOFRUIT
machines and the
great simplicity make these machines the ideal "partner" even for very large
companies.
| | |
| --- | --- |
| Engine | Lombardini 4 CYL |
| Type | Diesel 24.5 KW/ 33.3 HP |
| Ruote anteriori trazione semplice | 26x12.00-12" 8 pr |
| Ruote anteriori (4WD) | 31x15.50-15" 8 pr |
| Rear wheels | 31x15.50-15" 8 pr |
| Service brake | A pedale idraulico |
| Emergency brake/Parking brake | Hydraulic negative |
| Diesel tank capacity | lt 70 |
| Hydraulic oil tank capacity | lt 110 |
| Aux power | 12 V – 15 A |
| Aux | 12 V – 15 A |
| Speed | 0-10 km/h |
| Speed range | 2 + 2 con/mit inversor |
| Transmission | Hydrostatic |
| Steering control | Orbitrol |
| Lenght (without bins trailer) | mm 4900 |
| Width (min/max) | mm 2070 / 3470 |
| Height (min/max) | mm 2400 / 2875 |
| Wheel base | mm 2660 |
| Ground clearance | mm 200 |
| Tourning radius | m 4,20 |
| Weight | kg 2355 |
O=Optional - nd=Not available - S=Standard
| | |
| --- | --- |
| 2 Pedane laterali 1,25x0,36 m e 2 pedane 0,80x0,36 m | S |
| Regolazione idraulica in senso orizzontale e verticale pedane posteriori | S |
| Regolazione idraulica in senso orizzontale pedane anteriori - meccanico verticale | S |
| Radiocomandi per regolazione pedane (433 Mhz) | S |
| Rimorchio automatico | O |
| 6 nastri raccoglitori laterali | S |
| Nastro centrale di accompagnamento | O |
| Trazione posteriore con differenziale autobloccante | - |
| Trazione 4WD | S |
| Guida automatica ad ultrasuoni | S |
| Guida idraulica con volante ed orbitrol | S |
| Contenitore frutta da industria | O |
| Barra di sollevamento anteriore | O |
| Compressore pneumatico 650lt installato all'interno della macchina | S |
| Forbici Pneumatiche e seghetto pneumatico | O |
| Pacchetto luci e freno idraulico a pedali | O |
| Freno negativo di stazionamento e di emergenza ad inserimento automatico | S |
| Pedana reti larghezza da 1,80 – 3,80 m; H=2,95 m; profondità 1,50 m | O |
| Impianto luci di lavoro | O |
| Impianto per livellamento in senso laterale e longitudinale | S |
| Scarico dei bins pieni per terra e sul rimorchio automatico | S |
| Kit tavola bins e sollevatore speciale per rimorchio automatico per bins fuori misura (max 160x110 cm) | - |
| Profili guida in legno per tavolo girevole per bins in plastica senza traverso | O |
| Riempitore basso (per impianti anti grandine bassi) incluso gomme 23.00 - 10.50 - 12" | O |
O=Optional - nd=Not available - S=Standard